Download Free Font Avelana
Font name:
Avelana

&nbsp (1 reviews)

Categories
Script
Author:
Måns Grebäck
License:
Free for Personal Use
Website:
http://www.mansgreback.com/
Files:
16
Views:
Downloads:
---
AvelanaBold_PERSONAL.ttf

AvelanaBoldItalic_PERSONAL.ttf

AvelanaDecoB_PERSONAL.ttf

AvelanaDecoM_PERSONAL.ttf

AvelanaDecoT_PERSONAL.ttf

AvelanaMedium_PERSONAL.ttf

AvelanaMediumItalic_PERSONAL.ttf

AvelanaThin_PERSONAL.ttf

AvelanaThinItalic_PERSONAL.ttf

Font release note
Avelana is a brush script typeface in true mid-1900s fashion.
Hand-drawn by Måns Grebäck during 2018, this high-quality typeface comes in six styles.
It has three weights, Avelana Thin, Avelana Medium, Avelana Bold, and each of the thicknesses as Italic.

The typeface is perfected for headlines and logotypes where you want a handwritten style.
Tags: Avelana, Måns Grebäck, Script, ABSOLUTELY_VITAL_INFORMATION.txt, avelana_flag.png, avelana_poster01.png, avelana_poster02.png, avelana_poster03.png, avelana_poster04.png, avelana_poster05.png, AvelanaBold_PERSONAL.ttf, AvelanaBoldItalic_PERSONAL.ttf, AvelanaDecoB_PERSONAL.ttf, AvelanaDecoM_PERSONAL.ttf, AvelanaDecoT_PERSONAL.ttf, AvelanaMedium_PERSONAL.ttf, AvelanaMediumItalic_PERSONAL.ttf, AvelanaThin_PERSONAL.ttf, AvelanaThinItalic_PERSONAL.ttf, Windows font
Characters sample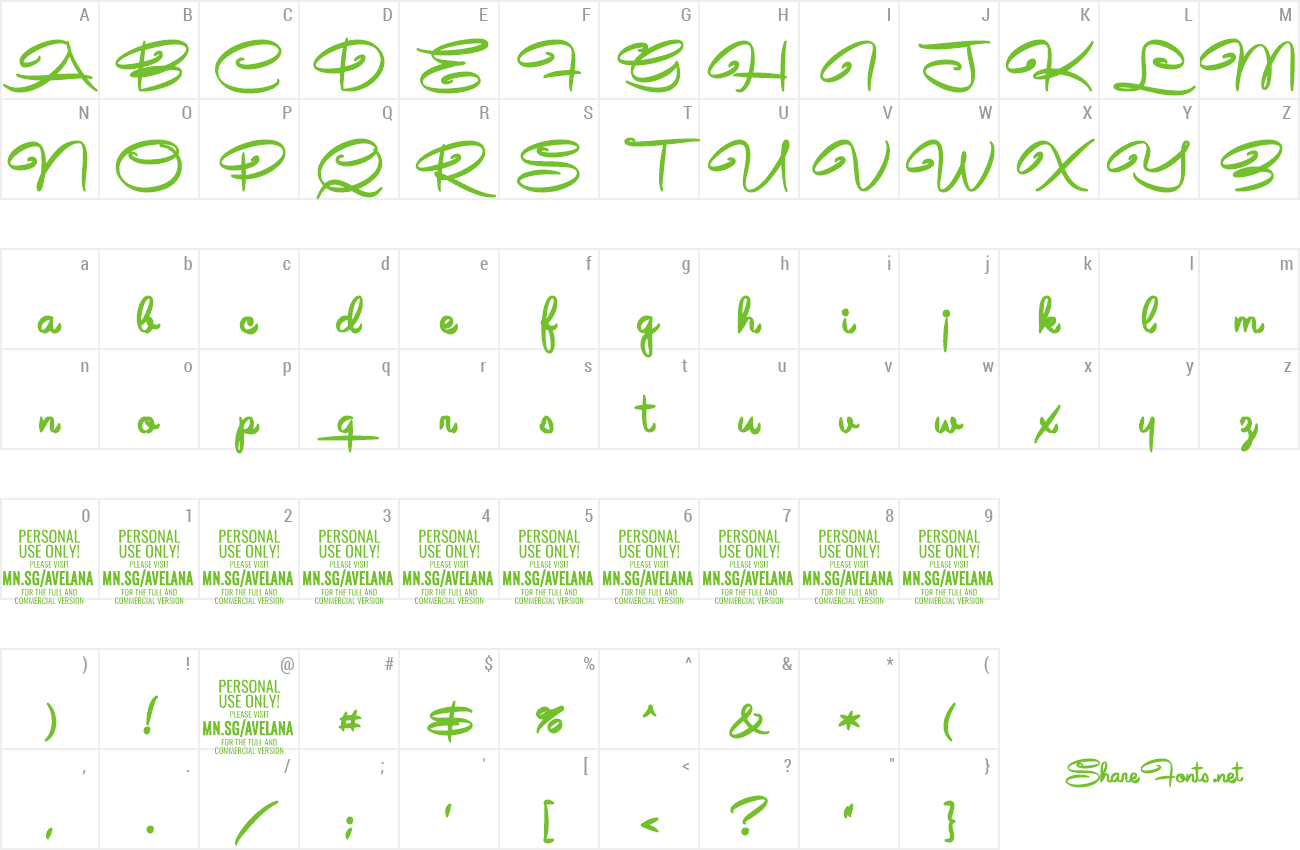 Font archive files
| # | File name | Size | Download |
| --- | --- | --- | --- |
| 1 | ABSOLUTELY_VITAL_INFORMATION.txt | 1.2KB | Download |
| 2 | avelana_flag.png | 299.6KB | Download |
| 3 | avelana_poster01.png | 694.9KB | Download |
| 4 | avelana_poster02.png | 519.2KB | Download |
| 5 | avelana_poster03.png | 453.8KB | Download |
| 6 | avelana_poster04.png | 574.2KB | Download |
| 7 | avelana_poster05.png | 468.9KB | Download |
| 8 | AvelanaBold_PERSONAL.ttf | 476.8KB | Download |
| 9 | AvelanaBoldItalic_PERSONAL.ttf | 380.9KB | Download |
| 10 | AvelanaDecoB_PERSONAL.ttf | 20.2KB | Download |
| 11 | AvelanaDecoM_PERSONAL.ttf | 22.7KB | Download |
| 12 | AvelanaDecoT_PERSONAL.ttf | 17.5KB | Download |
| 13 | AvelanaMedium_PERSONAL.ttf | 528.9KB | Download |
| 14 | AvelanaMediumItalic_PERSONAL.ttf | 355.7KB | Download |
| 15 | AvelanaThin_PERSONAL.ttf | 688.6KB | Download |
| 16 | AvelanaThinItalic_PERSONAL.ttf | 417.8KB | Download |