Download Free Font Kandira
Font name:
Kandira

&nbsp (2 reviews)

Categories
Sans Serif
Author:
Måns Grebäck
License:
Free for Personal Use
Website:
https://www.mansgreback.com/
Files:
19
Views:
Downloads:
---
Kandira-Bla_PERSONAL_USE.ttf

Kandira-BlaIt_PERSONAL_USE.ttf

Kandira-Bol_PERSONAL_USE.ttf

Kandira-BolIt_PERSONAL_USE.ttf

Kandira-It_PERSONAL_USE.ttf

Kandira-LigIt_PERSONAL_USE.ttf

Kandira-Lig_PERSONAL_USE.ttf

Kandira-Reg_PERSONAL_USE.ttf

Kandira-ThiIt_PERSONAL_USE.ttf

Kandira-Thi_PERSONAL_USE.ttf

Kandira-XBlaIt_PERSONAL_USE.ttf

Kandira-XBla_PERSONAL_USE.ttf

Kandira-XLigIt_PERSONAL_USE.ttf

Kandira-XLig_PERSONAL_USE.ttf
Font release note
Kandira is a sleek sans-serif typeface.
It is built with round arches and steady legs.
Drawn and created by Måns Grebäck in 2018, this is the perfect font for a modern-age company profile.
The typeface family comes in seven weights:
Thin, ExtraLight, Light, Regular, Bold, Black and ExtraBlack, and with italics that is a total of 14 styles.
Tags: Kandira, Måns Grebäck, Sans Serif, ABSOLUTELY_VITAL_INFORMATION.txt, Kandira-Bla_PERSONAL_USE.ttf, Kandira-BlaIt_PERSONAL_USE.ttf, Kandira-Bol_PERSONAL_USE.ttf, Kandira-BolIt_PERSONAL_USE.ttf, Kandira-It_PERSONAL_USE.ttf, Kandira-LigIt_PERSONAL_USE.ttf, Kandira-Lig_PERSONAL_USE.ttf, Kandira-Reg_PERSONAL_USE.ttf, Kandira-ThiIt_PERSONAL_USE.ttf, Kandira-Thi_PERSONAL_USE.ttf, Kandira-XBlaIt_PERSONAL_USE.ttf, Kandira-XBla_PERSONAL_USE.ttf, Kandira-XLigIt_PERSONAL_USE.ttf, Kandira-XLig_PERSONAL_USE.ttf, kandira_flag.png, kandira_poster01.png, kandira_poster02.png, kandira_poster03.png, Windows font
Characters sample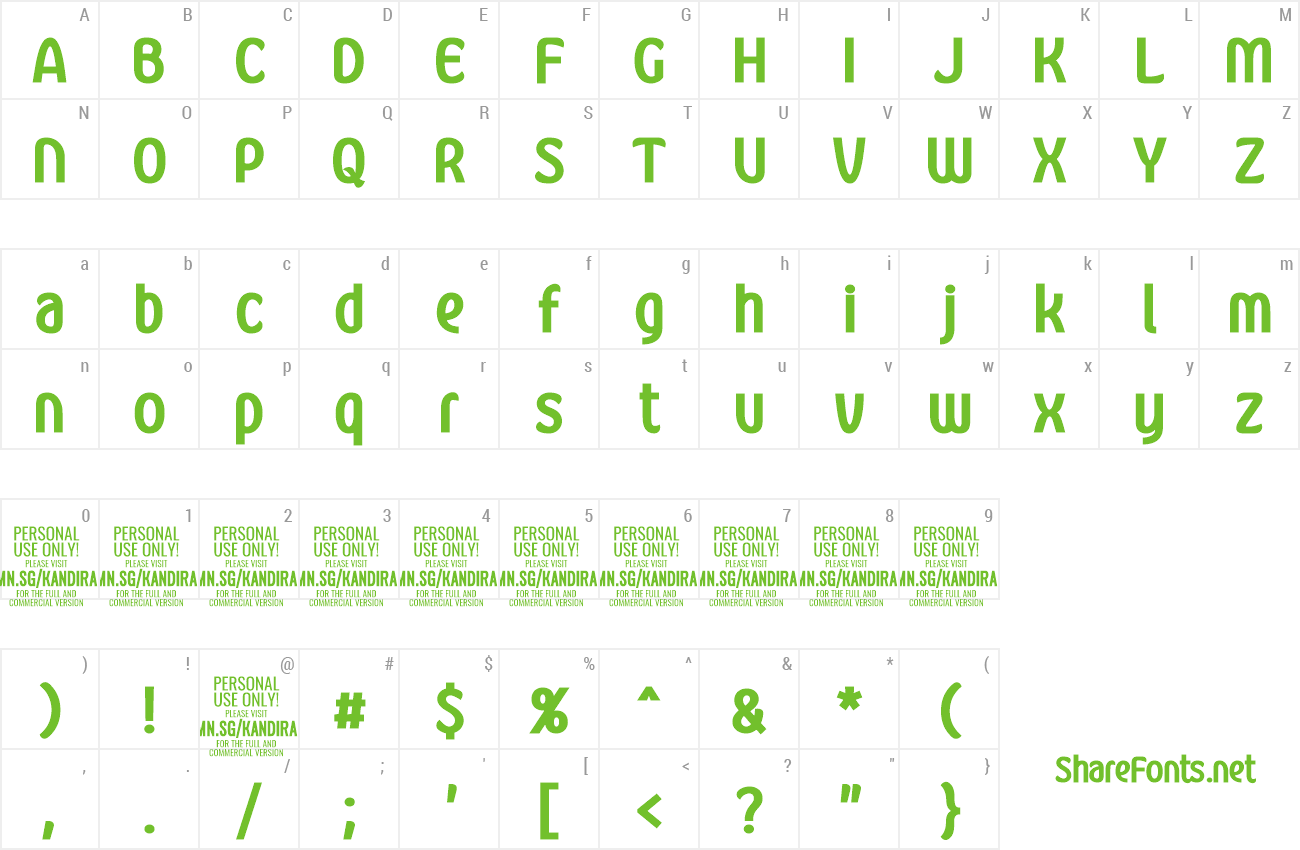 Font archive files
| # | File name | Size | Download |
| --- | --- | --- | --- |
| 1 | ABSOLUTELY_VITAL_INFORMATION.txt | 1022B | Download |
| 2 | Kandira-Bla_PERSONAL_USE.ttf | 114.3KB | Download |
| 3 | Kandira-BlaIt_PERSONAL_USE.ttf | 98.7KB | Download |
| 4 | Kandira-Bol_PERSONAL_USE.ttf | 126.6KB | Download |
| 5 | Kandira-BolIt_PERSONAL_USE.ttf | 105.6KB | Download |
| 6 | Kandira-It_PERSONAL_USE.ttf | 117.7KB | Download |
| 7 | Kandira-LigIt_PERSONAL_USE.ttf | 131.4KB | Download |
| 8 | Kandira-Lig_PERSONAL_USE.ttf | 160.2KB | Download |
| 9 | Kandira-Reg_PERSONAL_USE.ttf | 140.7KB | Download |
| 10 | Kandira-ThiIt_PERSONAL_USE.ttf | 165.9KB | Download |
| 11 | Kandira-Thi_PERSONAL_USE.ttf | 220.7KB | Download |
| 12 | Kandira-XBlaIt_PERSONAL_USE.ttf | 100.1KB | Download |
| 13 | Kandira-XBla_PERSONAL_USE.ttf | 115.2KB | Download |
| 14 | Kandira-XLigIt_PERSONAL_USE.ttf | 153KB | Download |
| 15 | Kandira-XLig_PERSONAL_USE.ttf | 186.5KB | Download |
| 16 | kandira_flag.png | 509KB | Download |
| 17 | kandira_poster01.png | 669.5KB | Download |
| 18 | kandira_poster02.png | 886.8KB | Download |
| 19 | kandira_poster03.png | 672KB | Download |